Procurement and Inventory Management for Restaurants
All In One App
Get in contact with us now to get 1 month free and a 20% off discount
Seamless ordering and purchasing process for restaurants and suppliers
Food Market Hub allows restaurant owners to track procurement and inventory data, manage and calculate food cost, and increase the restaurant's profits. It also integrates with your existing POS system to provide in-depth data for your restaurant's needs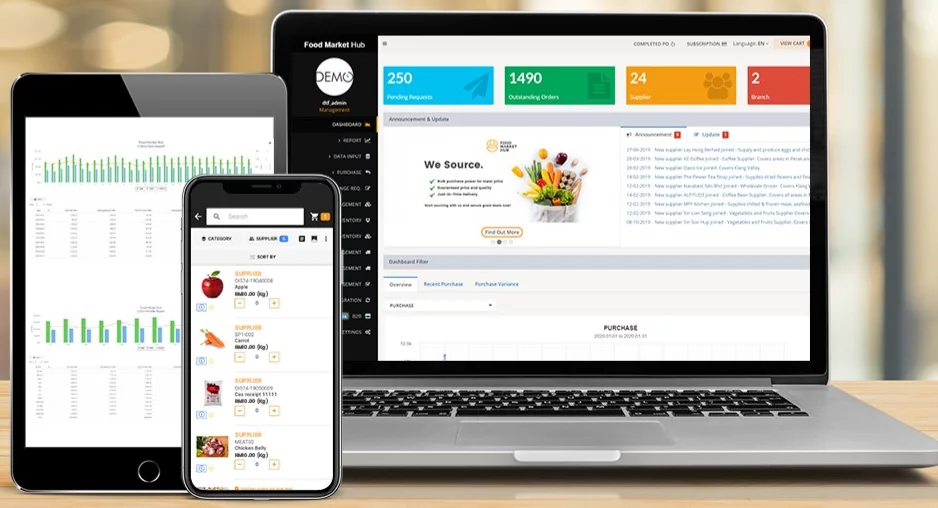 As a restaurant owner, are these the challenges you face in your day-to-day operations?
01
Spending hours to communicate with different suppliers?
Our system can automate your purchasing processes, reduce communication costs and errors, and make your F&B business flourish.
02
No control and visibility of ever-fluctuating food cost?
Our system can effectively track your inventory and formulate purchasing standards. Thereby controlling costs and increasing profits!
03
Still using Excel to track purchase records and reports?
Procurement data, inventory usage, profit cost data, sales production and profit analysis of the central kitchen can all be seen immediately using our system!
F&B is a good industry to be in, but why sell more and make less?
The first step to reducing food cost is Purchasing!
Let Food Market Hub help you analyze your purchasing data and save up to 12% of purchasing costs!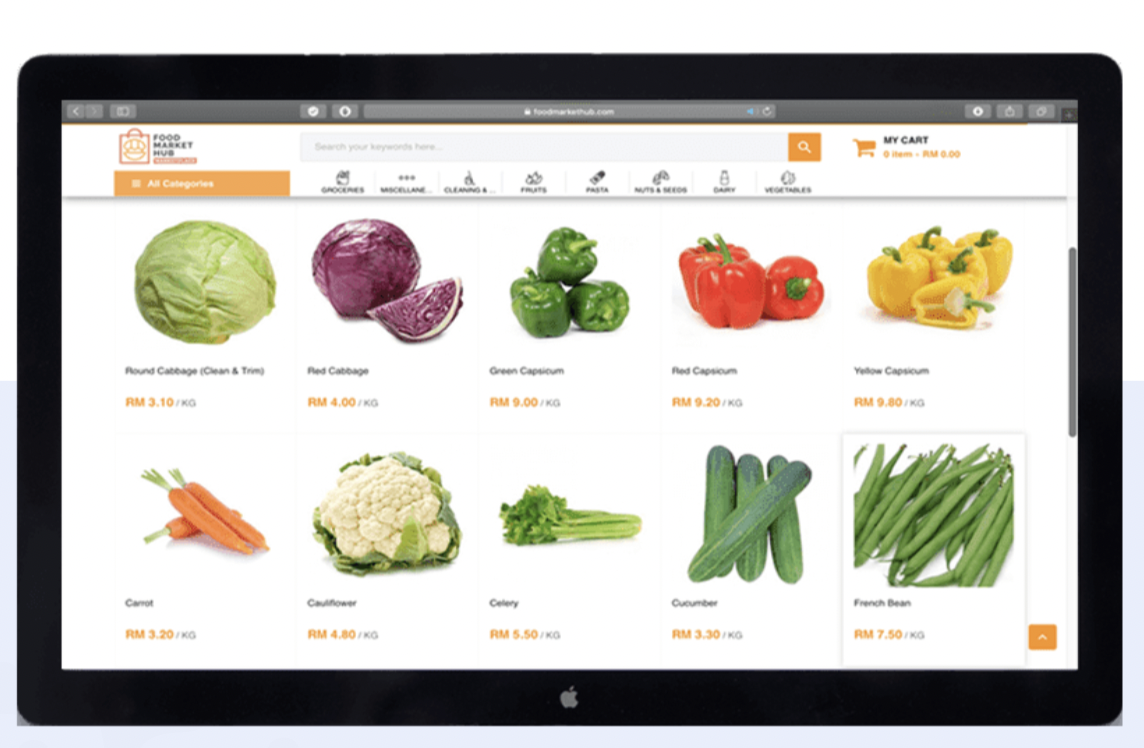 Ensure the ingredients purchased from the suppliers meets your kitchen needs to avoid waste!
Purchasing and inventory management can be a headache, but it's also an important part of your F&B Business. We make your job easier by analyzing your operations, so that your profits will not be eaten away unknowingly. According to the data, you can ensure that all purchased ingredients are used and excessive purchases or "private orders" can be avoided.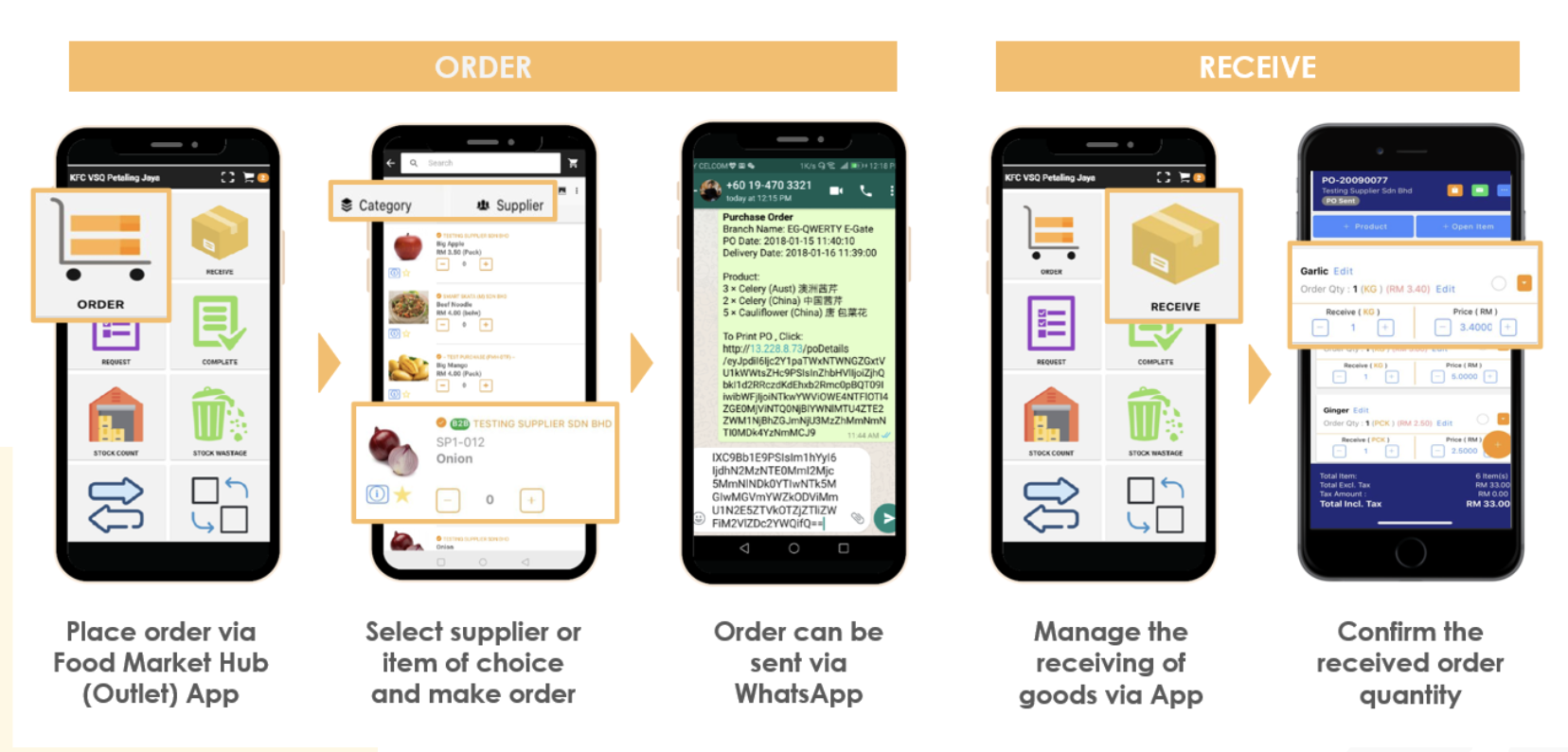 Place an order with one click. It's a simpler and time-saving procurement process
Place orders with different suppliers all in one app. By simplifying the procurement process, you can reduce communication costs, procurement errors, and improve the efficiency of food procurement! Managers can now have more time and focus on more important things!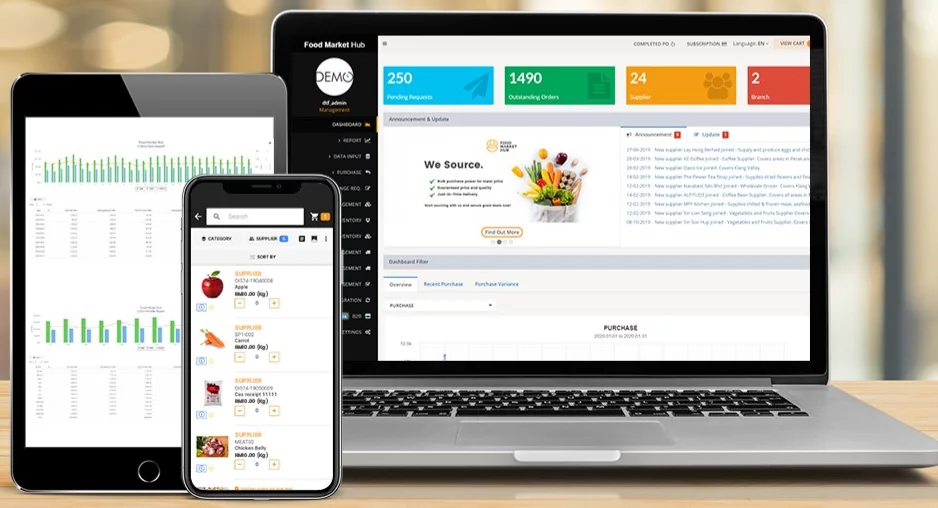 Monitor your inventory through the system, check inventory and sales ratio
Through Food Market Hub, you can track your inventory quantity and total value. At the same time, you can also upload your outlet's sales (Excel) or choose an integrated POS to compare your purchase, sales and inventory errors. Our system also allows you to set inventory threshold reminders to avoid insufficient inventory.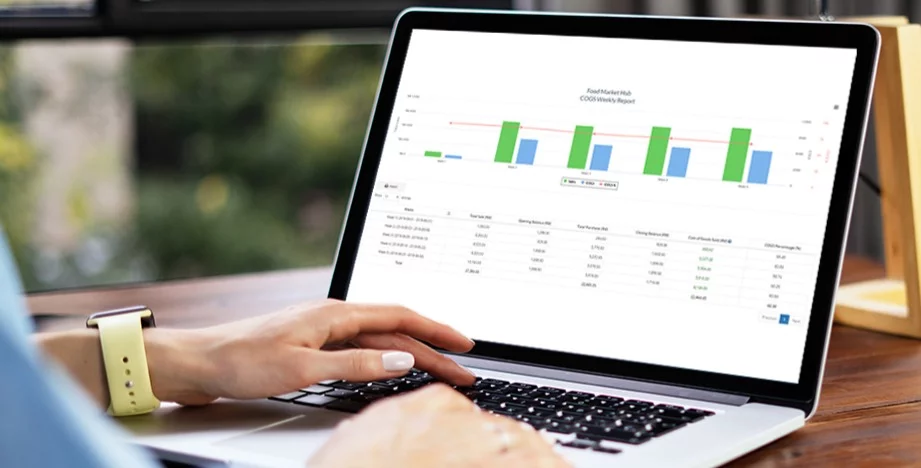 Still using Excel to record messy purchase data?
In the daily purchase process, all data is recorded through the system, no complicated data in Excel is needed, and logistical work can be reduced.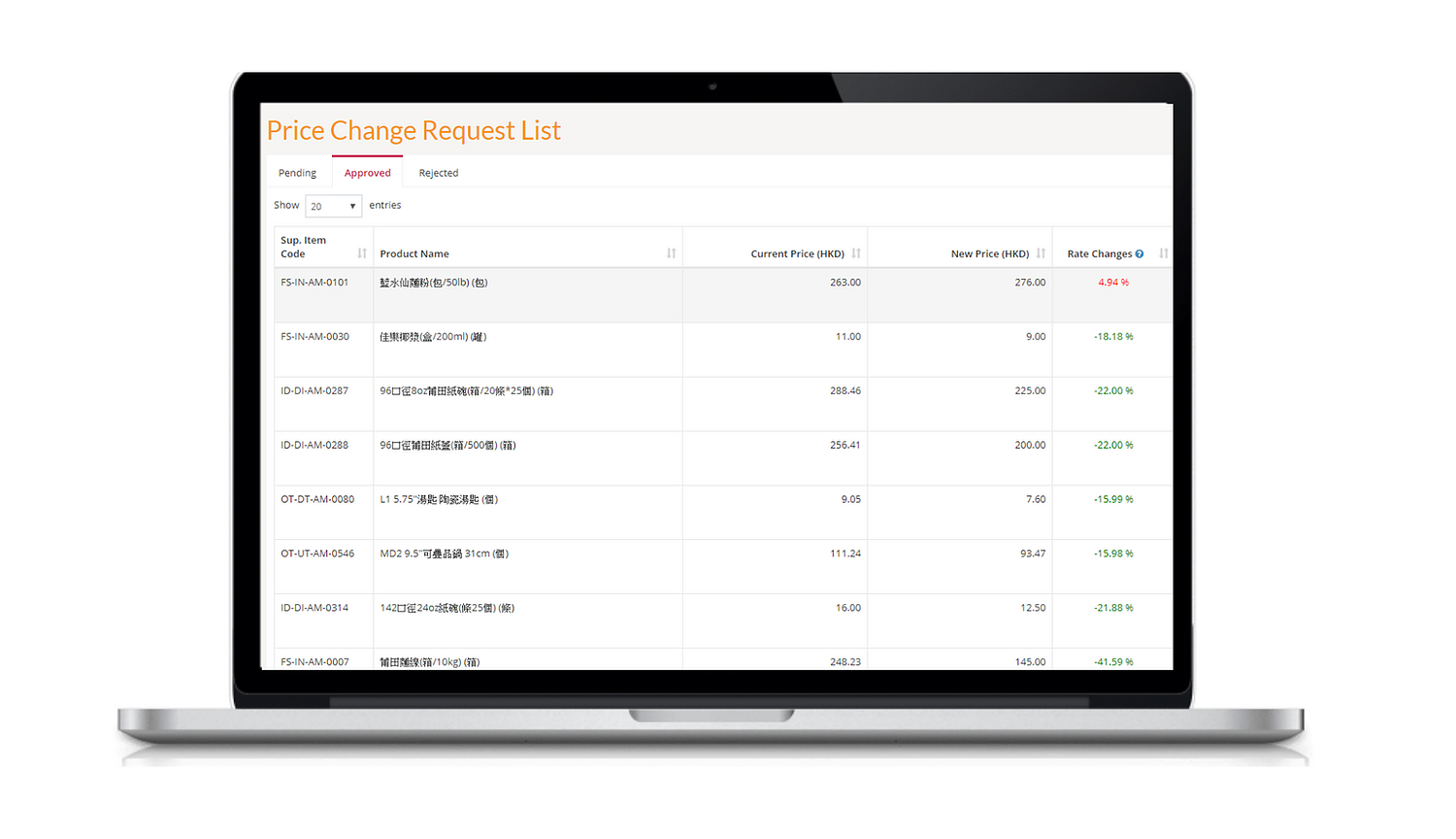 Calculate food costs and formulate reasonable menu profits
Constant changes in the prices of suppliers and food costs will indirectly affect profits. After formulating your food ingredient costs, use the system to monitor and remind you of menu cost changes in real time, and the COGS of all menus can be tracked in real time basis.
​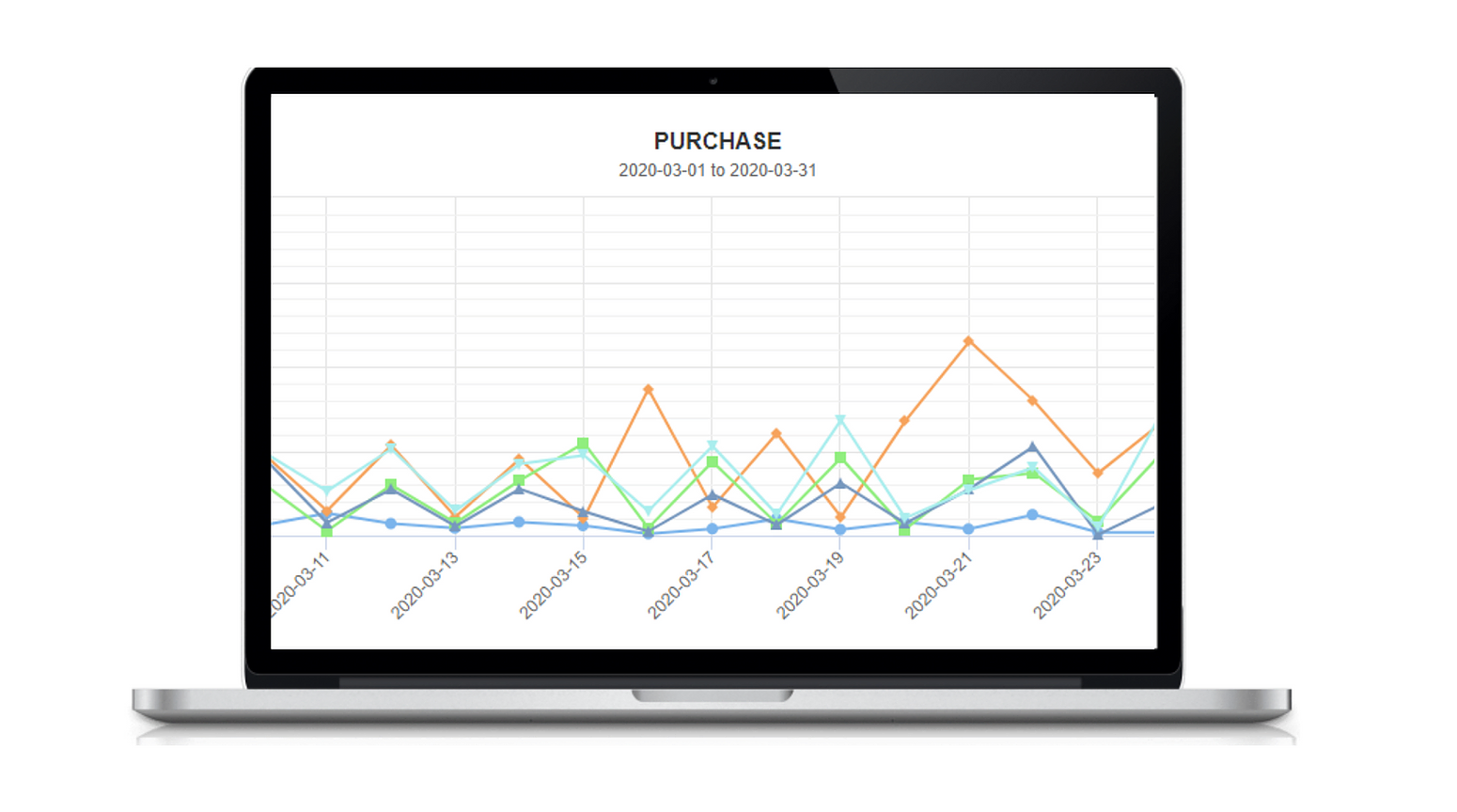 ​Real-time control of your daily purchases
Instantly record the daily purchases of your branch and forecast the profit of the day!
Use your POS and Accounting system to integrate with Food Market Hub to get the most complete and effective overview of your F&B Business.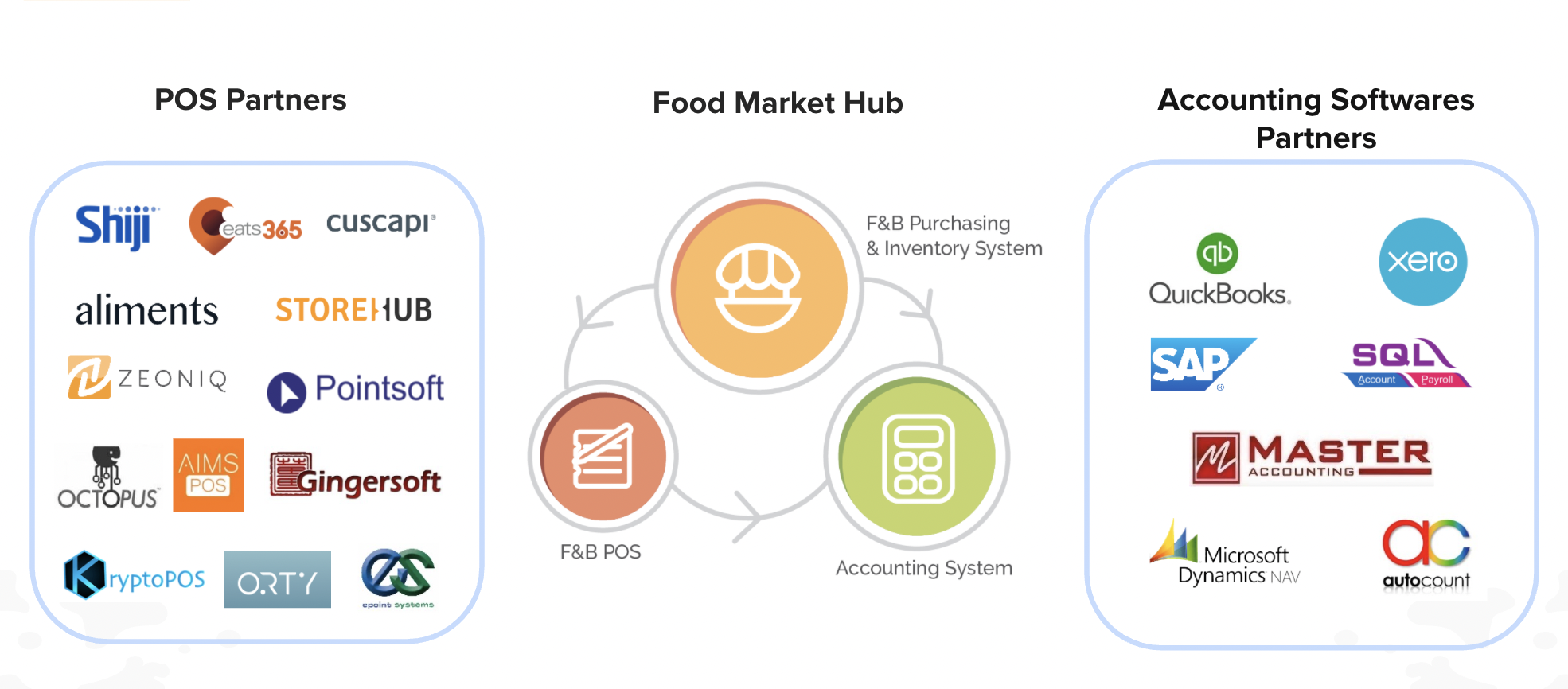 Trusted By Over 2000+ Brands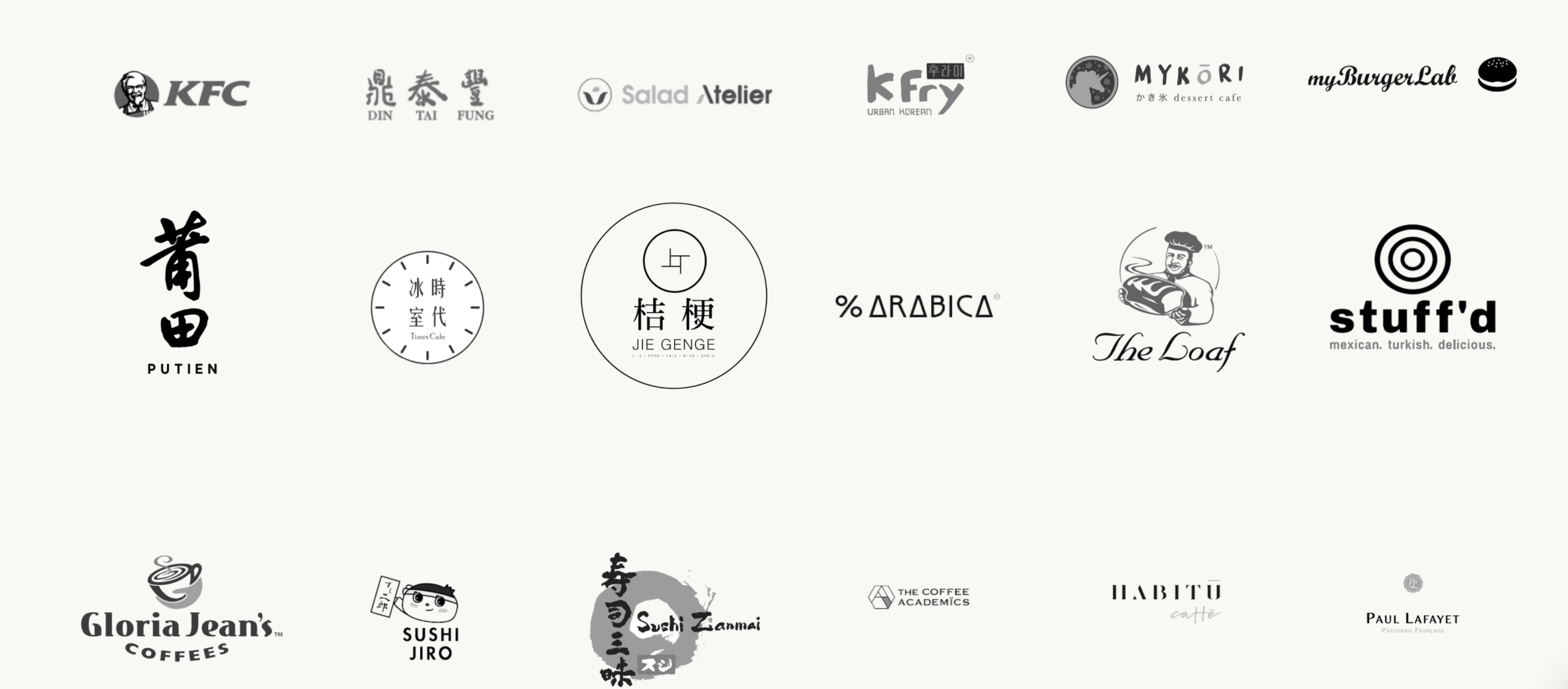 Check out what our customers have to say about us!
After using Food Market Hub for 3 years, it gives us so much more information that we can use to discuss and make better decisions, such as choosing from supplier A or supplier B. Besides, it also makes placing an order with the supplier simpler, the store just needs to go through the app and select what needs to be purchased and a PO will be autogenerated! Andrew - Chief Operating manager of myBurgerLab
Food Market Hub has eliminated a lot of manual processes in procurement by automating them. It has really helped us erase human errors and reduce our wastage because of the automated calculations! Kok Jit Weng - Owner of Khatulistiwah Cafe
Food Market Hub is able to standardize my business and sync my sales order data to invoice instantly, which has saved me 61% of admin hiring cost. One invoice used to take up to 5 minutes, but now I can generate an invoice within 10 seconds, just by clicking 2 buttons! Leong Tin Fui - Director of FK Supply
Fill up this form & our team will contact you shortly for Free Demo!